[This post was first published in 2012 when Retromat was tiny and new. Seems like a lifetime ago.]
I'm always looking for inspiration for retrospectives e.g. over at Thorsten Kalnin's or in the retrospectives wiki. Time to give back! This is a format I tried out some time ago: The basic idea is to let the participants describe the issue with a metaphor.
A metaphor is a literary figure of speech that uses an image, story or tangible object to represent a less tangible object or some intangible quality or idea; e.g., "Her eyes were glistening jewels."
(Source: Wikipedia)
There are several ways to have participants come up with metaphors, e.g.
"Which movie title would best describe our sprint?"
Drawing the sprint as described in this blog entry
Or… Choose a postcard as a representative!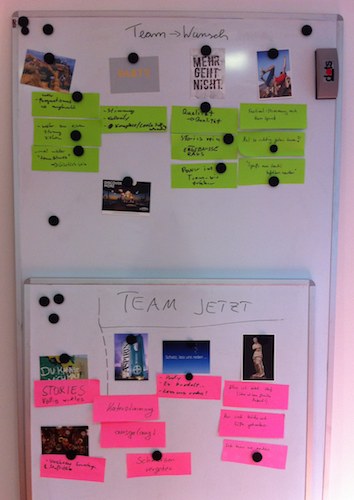 There are two reasons to use metaphors in a retrospective:
It gives a shared understanding of someone's perspective
It can open a path to find new solutions. It's similar to an approach you sometimes take in math: Say, you have a problem and don't know how to solve / approach it. Some problems can be transformed into an analoguous form in a different field of mathematics, where it can be solved. Afterwards you transform the solution back to the originating field and have a solution to the original problem. Tada
Enough theory, this is how the session went down:
Situation: The developers and PO were going through a rocky patch back then and I wanted to help them overcome this.
Preperation: I selected about 30 postcards for 5 participants and 2 rounds. For most postcards I had a loose association how they might relate to the topic. On top of that I stacked a few random and / or abstract images for good measure. (Who would have thought my impressive collection of postcards would come in handy for my agile endeavours?) I scattered the postcards all over the room on the floor, so that the participants have to get up and wander about.
Session plan: The postcards were part of the Information Gathering phase:
Pick the postcard that best resembles how you see the team right now.
(No shared postcards. If you're not fast enough, pick another one.)
Write down 3 keywords that describe how you see the team (with regards to the postcard)
In turn everyone hangs up their postcard and keywords and explain their choice
Usually you'd only have one round but we had a second round on the question "How would you like the team to be 3 months from now?"
Followed by:
Brainwriting: How could we get from the Now-state to the Wish-state?
(I often do written activities to level the playing field for quieter team members.)
Collect all Brainwriting ideas, cluster and dot-vote which 3 suggestions to talk about.
Create action items (preferably as SMART goals)
It was the most productive brainwriting session I've ever seen.
[This Change Management training gave me the idea with the postcards.]
PS: Need more ideas for retrospectives? Try out my very own Retr-O-Mat 🙂
The Postcards are Activity #42, Brainwriting is Activity #66 and SMART Goals are Activity #13.